Adirondack Camp we believes in recognizing the outstanding achievements and character of our campers. Awards are presented not only to those who have excelled in camp activities, but also to those who have demonstrated dedication and love of camp. Feats large and small are honored (ranging from 'neatest trunk' to 'outstanding contribution to the kayaking program'), and every camper returns home with an envelope of certificates – tangible reminders of their accomplishments at Adirondack Camp.
At the conclusion of each session, we hold an awards banquet to present our highest awards. Here are a few waiting to be earned:
The Adirondack Eagle
The Adirondack Eagle is one of the oldest awards in camp and is held in very high regard by all who are awarded it. There are Bronze Eagles awarded to Juniors, Silver Eagles to Intermediates, and Gold Eagles for Seniors or Staff. In order for a camper to be eligible for an eagle they have earned an Emblem, be a Brave at Awiskini, and have exhibited (to the unanimous agreement of the Staff) the qualities and characteristics of the 10 Commitments of leadership, creativity, cooperation, growing, effort, courage, independence, spirit, sharing, and responsibility. Staff eagles are awarded at the sole discretion of the Director.
The Adirondack Emblem:
An Adirondack Emblem is Adirondack's way of recognizing campers for their all-around success in many different activities over the course of the summer. Juniors work towards Bronze Emblems, Intermediates; Silver Emblems and Seniors; Gold Emblems. In order to earn an Emblem in the first four weeks, a camper must earn between 120 and 140 points. The point amount can vary depending upon the weather conditions during the season and how often activities are ran.
An Adirondack Jacket:
An Adirondack Jacket is awarded to those six or eight week campers who have earned two Emblems in a single season.
The John Halasz Adirondack Spirit Trophy:
Presented in honor and memory of John Halasz and his 30+ years of outstanding contribution, love, and service to Adirondack Camp, the entire camp votes (including staff) for the winner of this award for an eight week camper.
Pam Warrick Award:
Awarded to an outstanding camper in the CIT program.
The Directors Award:
Awarded a the sole discretion of the Director to a staff member who best exemplifies the spirit, philosophy, and 10 commitments of Adirondack Camp.
Blue /White Trophy:
Awarded to the team with the most Blue/White plaques at the end of the summer.
What They Say About ADK
My favorite moment was when I was doing the Blue-White Games.They were really fun because it's always nice to have a little friendly competition with my fellow campers. Caroline C, Camper
Henry J. Taylor Best Campers' Cup:
Awarded by Line Heads to the best Junior, Intermediate, and Senior campers on their line each session.
The Geoffrey Carrington Camp Trophy:
Awarded to a camper for outstanding contribution and spirit on the waterfront.
The John Burton Fiery Swimming Trophy:
Awarded to an outstanding swimmer during the camp season.
Activity Plaques: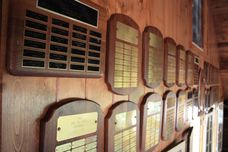 Every activity has a plaque to represent the skills and camper development. Activity counselors are encouraged to carefully choose those campers who are most deserving of being awarded this honor.