Plan a Day Hike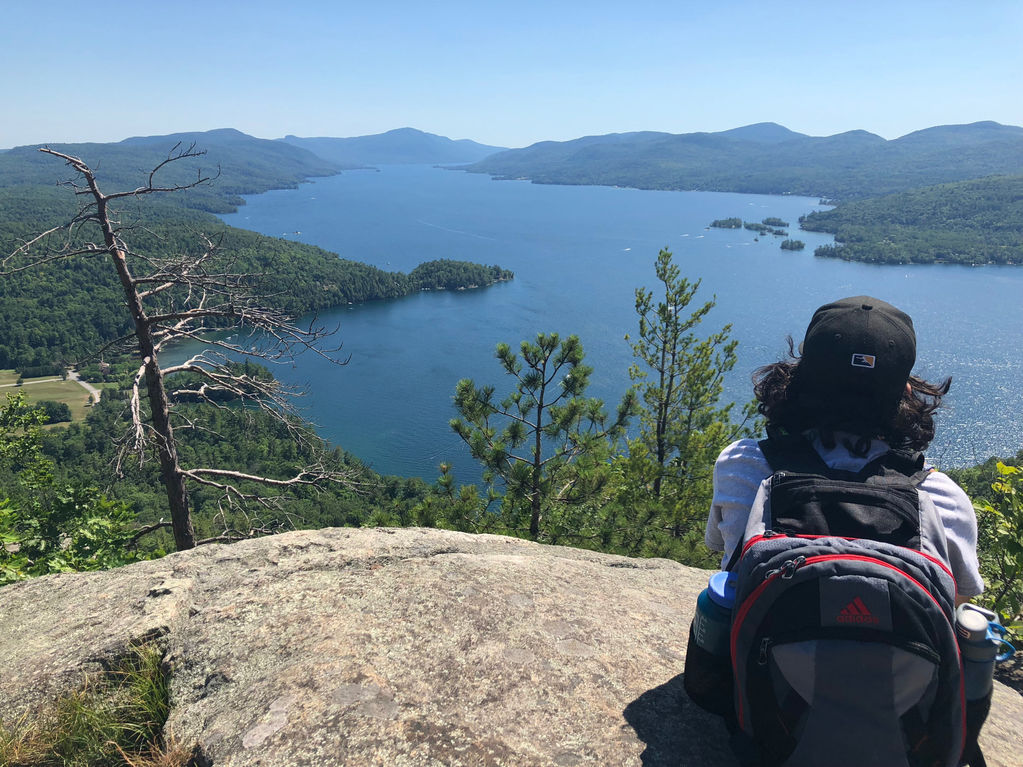 We are sad we aren't all in the Adirondacks together this summer, but you can still experience the tranquility and wonder of the Great Outdoors from right outside your front door! It takes about a day to plan a hike and gather all of your materials, so look at the weather forecast for your area and pick a nice day. Then decide how difficult and how long of a hike you would like to go for.
A day hike can be anywhere in the range of 3-8 miles. How difficult do you want your hike to be? Keep in mind that you will probably walk at a pace of about 1-2 miles per hour, and only .5 miles per hour if the trail is steep.
An Urban Hike through your city or town is a great option if you don't have many parks or trails around you. Walking at a slower pace, you will be able to look past the everyday things you see out your car window and find some cool discoveries, like a type of plant you've never seen before, or some artwork that you've always walked past, or patterns that take a few extra seconds to notice.
To research local hikes, use a free App called Alltrails. You can do further research and calculate distances using Google Maps. Write an itinerary to determine the time you will need to depart from your home, the time you expect to start hiking, and the time you want to be home by. Use the distances from your maps and a hiking rate of 1-2 miles per hour to calculate these times.
The Itinerary should include the following and each hiker should carry a copy:
hikers' cell phone numbers
map and directions to where you plan to walk
time you expect to start hiking and time you plan to return
Adults' cell phone numbers and list of who to call in case of emergency
Packing list:
Bug spray and sunscreen
Comfortable walking shoes with socks (hiking boots or sneakers)
Wear non-cotton clothing (not jeans) to wick away sweat and keep you dry
Sunglasses and a hat with a brim for shade, consider covering your neck with a bandana
Copy of itinerary with trail map
At least two waterbottles
Rain coat and warm layer
Backpack with a whistle
Cell phone in a waterproof plastic bag
Toilet paper or tissues
Snacks and lunch- trail mix,(chocolate will melt, m&ms won't!), powerbars, sandwiches, fruit
First aid kit with blister tape, bandaids, antibacterial wipes
Money for ice cream :)
From the words of the reverential Lara Matthys, the Head of our Trips Pillar, "Leave No Trace Principles are more than just a list of things that we do when we're in the woods. It is a way of connecting with our personal environment in a way that is in harmony with the whole ecosystem. You don't have to be on a Trip or at camp to practice being a positive participant in the care and keeping of our world. It starts at home. It starts with each of us. "
Do not eat any food that you did not pack yourself, be aware of your surroundings and trust your gut feelings, stay with your group, and don't go anywhere with a stranger. Gather some responsible friends to go with you on your adventure, and make sure to give an itinerary of your trip to your adults.