Evenings at Camp, Weekends, and Special Events
Gold Rush
Double Games
Game Sghow Day
Star Wars
Harry Potter Day
Backwards Day
Saturdays are Special Days with lots of variety. It could be Blue/White Games, Carnivale, Super Hero's Day, Pirate's Day, or...
Sundays are more laid back. There's no bugle so you can sleep-in or partake of a breakfast buffet accompanied by cartoons!
Some campers and staff go to church. Later, there are basketball, soccer and Frisbee pick-up games and lots of impromptu guitar playing.
After dinner, there is often an outdoor barbeque, then campers set their new schedules during "Line-up-Sign-up."
Gold Rush
Double Games
Game Sghow Day
Star Wars
Harry Potter Day
Backwards Day
Every evening at ADK is different and full of fun. From campfires to dances, movies and Blue/White events, performances and ceremonies – every single night has a special activity. Many are large, camp-wide events and some are smaller, cabin or line nights, retreats organized by gender or age.
Gold Rush
Double Games
Game Sghow Day
Star Wars
Harry Potter Day
Backwards Day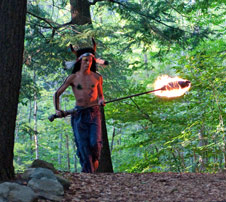 Awiskini
Our oldest tradition, a weekly ritual that takes place in a wooded area ringed by tall pines, bedrock cliffs and hand-carved totem poles, is Awiskini (pronounced a-whisk-inney), a Native American-themed ceremony where spirits from the past (costumed counselors) dance around a bonfire.
There are many games played at Awiskini but only Adirondack "Braves", campers who become eligible by passing tests of silence, service and memory, may compete. Almost a century later, this timeless theatrical event still evokes eye-popping, open-mouthed wonder in children of all ages.
Gathering
Once a week we celebrate Gathering, where we sit on the rocks facing the sunset and speak quietly and honestly about how we feel. Some stand up and talk about how much camp or their friends mean to them, many bring guitars and share their voices in a song from their hearts. This lovely, heartfelt tradition serves to bond the community even closer.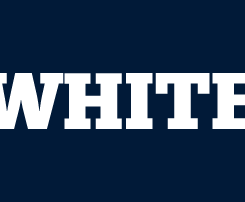 Blue/White is a series of summer-long, traditional events that are at the heart of ADK. Other camps might call it "color war" but we view Blue/White more as a spirited rivalry.
During the first week of Camp, each new camper is designated either Blue or White, a lifelong family affiliation that is retained from generation-to- generation.
We bang on tables, chant crazy rhymes, and hang wooden plaques in the dining hall as each team racks up their score. Good sportsmanship and integrity are valued above all.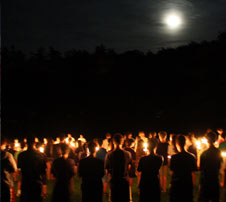 Endings
Each of the four-week sessions culminates with an awards banquet where accomplishments and achievements from throughout the session are recognized.
At the end of each session the girls exchange wish boards. Every single girl is given an original, hand painted wish board made just for them by their counselors. This exchange is often accompanied by both tears and laughter.
Finally, at the end of the summer, we commemorate our time together with a heartwarming Candlelight ceremony. As the sky darkens for the last time that summer – every camper and staff member lights a candle on the main lawn, where we stand in a silent circle and then sing the camp song one final time.
Back to the Schedule