Secrets of A Great Camp Counselor
The Incredible Troupe of former children who make summer camp shine – if children are our life force, our camp counselors are a combination of brain and heart.
One can have a philosophy. One can have the facility and the activities. But without caring, experienced staff with a high degree of love for children, a keen sense of urgency, accountability, and pied piper qualities, there is no true summer camp experience.
What They Say About ADK
What did I like about my counselors? How they were 90% kid. Camper, 2012
We fill over 50% of our camp counselor positions with returning staff each year, and many are taken by Adirondack Camp alumni. Selection criteria are high, and include thorough interviews, background checks, and references. For a summer camp job the emphasis is on common sense, quick thinking, mentoring and motivational capabilities, maturity and selflessness, hard work ethic (it is 24×7 at Adirondack), a love of children and, above all, a solid memory for what it was like to be a young person.
Authoritarian or reclusive role models need not apply!
At our overnight summer camp in NY, counselors and campers live together in open-air cabins and share privileges and responsibilities. Summer camp counselors are guardians of campers' physical, emotional, and psychological safety, which gives children the confidence to reach for who they really are. Our counselors need to be fun and fair best friends, sensitive and creative big sisters and brothers, and challenging and charismatic mentors. Our counselors are close-up role models for everything from thoughtful decision making to personal hygiene.
We are immensely proud of our men and women who choose to make a lasting difference in a child's life. The rewards are huge. Our staff has told us that we should consider changing the camp motto – "Bold hearts, strong character"-to "Change a young person's life – change yours!" Both are strong reminders of the serious side of our game and of the tremendous privilege there is in being appointed an Adirondack Camp counselor.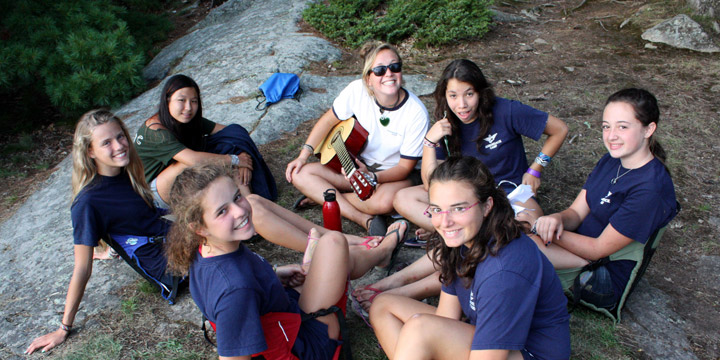 What They Say About ADK
This summer has been the best summer of my life. From my cabin just being spectacular, to all the Line Nights and the laughs and memories shared, it all had a major impact on me. But when I think back and try to find what memories I can cherish for a long time, I think of my cabin. All the laughs, inside jokes, EVERYTHING we shared. That's what I loved. I LOVED having late night talks with some of the girls, I loved making friendships that I know will last a lifetime. Mary Kate K, Counselor
How To Apply
Applicants need to be at least 19 years of age or have completed one year of college by the opening of camp.
Candidates who are fluent in Russian, Spanish, and French are encouraged to apply.
Read through our website to learn more about our programs and our facilities.
Review our position openings.
If your qualifications match our openings, apply using our online application.
We will contact you after reviewing your application.