Going to overnight coed summer camps for the first time can be daunting at any age; and even children who pushed their parents to enroll may suddenly have second thoughts. Conversely, it's sometimes the kids who dragged their feet who take to camp without a hitch. You never know.
Video: firstTimeAtCamp
The best insurance is to be true to our philosophical roots and to provide the "safe place" that we promise–a kids camp safe enough physically, but also psychologically and emotionally –to invite our campers to dare to be themselves.
From the start first-time campers are made to feel welcome by the welcome signs the cabin-mates have prepared for them, by the special greetings from their counselors, by the older "brother" or "sister" who has come to visit them in their cabins upon their arrival and who will take them by the hand for a personal guided tour to show them the ropes and that sort of thing.
The 12 Secrets of the Great Summer Camp
Impart, always, with each instruction and each small act of friendship the essential values of sharing, creativity, cooperation, growing, effort, courage, responsibility, leadership, independence and spirit.
A Safe Place
Vigilance and, of course, a loving, kind approach through many sets of eyes monitoring your child's progress–-this we promise.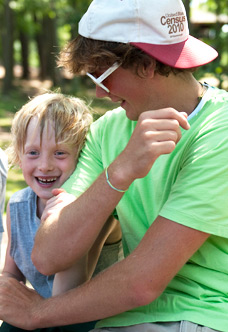 As it is, we keep our camp boys and camp girls actively challenged, engaged and happy. There's little time for looking back. If a child does experience a bit of sadness, our mature, well-trained counselors are right there to comfort and humor them. Remember, our adult to child ratio is almost 1:2, so your child will always have a special person or two to lean on if and when the need arises.
We work hard to encourage bonding and to prevent cliques. It's our goal to create a culture of inclusion and respect. New campers will find their cabin-mates encouraging and welcoming, while their counselors build community into every level of bunk life.
There is zero tolerance–Zero–for any kind of hazing, bullying or exclusionary behavior by one or more campers toward another.
Yes, leaving home for the first time can be an enormous challenge but it will also be one of the most important, extraordinary and rewarding experiences of your child's life—provided the foundation has been properly laid.