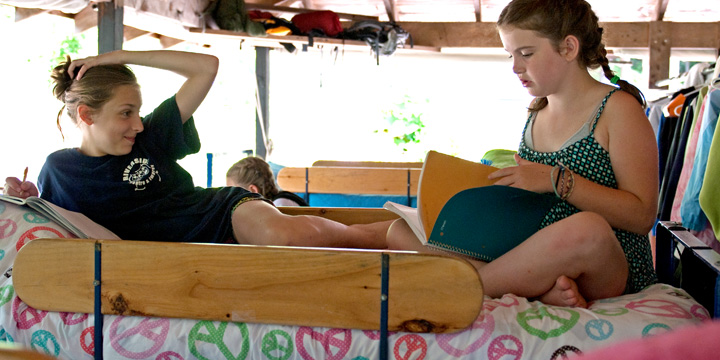 Our coed summer camp is divided by gender and age. Between two and four adult counselors live and sleep along with campers in large, open-air cabins. Double-decker bunks stretch across both sides and there's plenty of open space for hanging out, goofing off and messing around.
Cabin life, is truly the center of your child's life. Living together creates deep bonds of friendship and so do the many special events cabin-mates experience together. Cabin nights and line nights are special events that foster a variety of groupings within the larger whole.
We're a traditional summer camp for kids; the cabins are rustic. You'll hear owls when you go to sleep and warblers as you rise. The moon shines right onto your bed-but if it rains, canvas flaps and bug nets protect you from the elements. Each cabin line has its own bathhouse, known as the "Perch," complete with modern facilities and privacy.
We believe in the power of ritual and at Adirondack Camp there are many. Every day summer camp girls and summer camp boys and staff "dress for dinner" in an Adirondack Camp T-shirt. It's a casual but classic way to formalize our day. Campers dress before "Retreat", a flag-lowering ritual complete with cabin formation, saluting attendance, bugle playing and cannon blasting.
The 12 Secrets of the Great Summer Camp
Structure the days to enable increasing choice, challenge and responsibility, while choreographing the events to preserve their spontaneity and wonder.  Organize the chaos!
At mealtime the rituals continue with singing, chanting and "things to say," the time when camp communications are shared. (Note: The word "announcement" is forbidden and if a counselor mistakenly utters this word, 200 voices rise up in a chastising chant.)
Now Hear This!
There are no watches at camp. Our bugler walks the campus, waking us with Reveille and putting us to bed with Taps.
The lapping of the lake, the wind in the trees, the music on the air–are all part of this rustic, wondrous adventure.